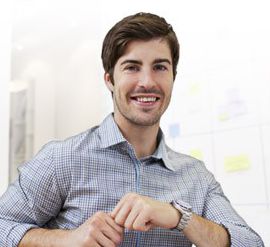 The technical department developed in Access ...
"... and, as is inevitable, this stand-alone solution doesn't play nice with our corporate IT. The application is functionally good but it urgently needs to be updated to a new technological basis so we, as IT department, can ensure its security and sustainability."
The Solution: Front- and Backend Migration with fecher
The solution that was developed back then is still doing what it is supposed to. Makes sense, as the technical department knew exactly what they wanted and needed. But is it still even possible to find out exactly how the application really functions internally? If you now start to redevelop it, you'll end up with a technically clean application but it will not be so easy to determine whether it also works properly.
In an Access migration with fecher, the user interface and application logic are transformed to a .NET Web Application, keeping their identical functionality. The data storage is converted to a modern, secure database platform of your choice - no matter if it's a SQL Server or a Microsoft Azure SQL database in the cloud. This procedure makes sure that the safety and integrity of the application is guaranteed for the long-term. Not to mention the additional benefit of having a modern architecture and enterprise database with scalable performance. The further development takes place again in the process of the IT department and meets the requirements of the revision.
More information on Access Migration